Volunteering on a Jumbulance trip is a rewarding and memorable experience, not only for the volunteer, but the passengers you are supporting too. Becoming a Jumbulance volunteer is an opportunity to combine your love for charity work and travel; the Jumbulance regularly travels all over the UK and across Europe.
We ask that volunteers contribute towards the cost of their accommodation and travel, our fundraising helps to subsidise the provision of the Jumbulances.
You don't need any specific skills or previous experience to travel on a Jumbulance trip, only compassion, proactivity and a willingness to help others. So how can you get involved?
Jumbulance volunteer applications
To apply to volunteer on a Jumbulance trip, please complete a volunteer application form on our Volunteer Application Form page. We will then get in touch to confirm that your application has been successful and to match you with a suitable trip.
If you want to know more about becoming a volunteer with Jumbulance, send an email to info@jumbulance.org.uk and we will be able to answer any questions and offer advice on how to complete your application.
Once you have applied to volunteer with us, we will match you to a group that is due to travel on one of our Jumbulance vehicles and you can connect with the group leader to prepare for your trip.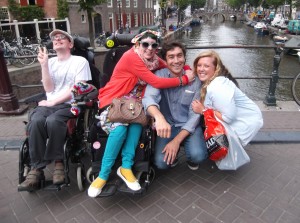 Jumbulance Bio (First-time volunteer experience)
"In preparation for the trip to Rhinesberg, a fellow volunteer shared that the Jumbulance is a holiday for volunteers, and I must admit I was sceptical about this, as I wondered how can it possibly be a holiday when you will be caring for someone? However, it has been almost a week now since my trip and I must admit I completely understand what they meant. Yes, you are caring 24/7 for people and yes it is hard work, but it is equally fulfilling, rewarding and most of all fun, with one of the most striking sounds from the holiday being laughter.
Our week in Rhinesberg was peppered with many extraordinary moments; from trips to Potsdam and Berlin to archery. We became quite accustomed to having lunch in palatial gardens and if I am honest I am finding it quite difficult to adjust to having my lunch in a boring office again. However, the simpler activities are the ones to have truly imprinted on me, as I never realised how much I take for granted swimming or riding my bike, or even simple necessities such as the ability to jump into the shower without thinking or planning. During my week with the Jumbulance I had the pleasure of caring for a lovely woman, who due to her illness and lack of a wet room had for a long time been unable to enjoy the simple pleasure of a shower, and she taught me the extraordinary power of soap and water.
That word extraordinary is key, as since returning from the trip, my family, friends and colleagues have all been asking how the experience was, and mentioning how it must have been extraordinary, and they are correct. The experience was extraordinary, I saw some extraordinary places and met extraordinary people who I now class as part of my adopted Jumbulance family and I honestly cannot wait to take part in another trip in the future. But the surprising thing is, the extraordinariness of the trip lies in its ordinariness. Having the time to talk leisurely over a long coffee, breakfast, lunch or dinner, to stop and take the time to chat with someone who society would deem as mute due to conversing more by touchscreen than by voice, and to be able (due to having the facilities and support around) to give someone the time to have a long leisurely shower, where they "feel cleaner than they have in years".
In a society constantly in motion, where people rush past, crush into and hush everyone, especially those who are not seen as normal (whatever that may be – and in truth and I myself until around two weeks ago was one of these self-same people), the Jumbulance gives us what should be ordinary but is an extraordinary gift – the gift of time. Time for relaxation, time for laughter, time for love, time to meet new people –  in short time to stop and realise what is important and what is actually going on around us, and this gift of time and the realisations that have come with it is something I will treasure forever.
"What the Jumbulance means to me
"I have been involved with the Jumbulance since 1976.  My first holiday was in 1979 and I remember it as if it was the last one I did  last week which is really funny because the first lady I looked after on this trip went on this one 34 yrs later. 
I have travelled as a nurse and have organised and lead many groups enjoying every minute of them both on holidays or pilgrimages.  Many times I have been called crackers for going on holiday to work!  My family also travel or have travelled in the past, nobody knows the feelings one has when you return from a Jumbulance trip.  Sometimes the full group in tears because they have  had such a great time and now having to split up and go home always puts. a lump in my throat.  It's a great feeling of satisfaction knowing that these people have got so much out of this.  Maybe this was their first holiday or it could be their last, (often this does happen) and of course some will  go every year if they can.
I personally enjoy  every minute of the trips and have got so many happy and sad memories and lots of laughs.  But most of all the satisfaction knowing that a lot of pleasure has been had by so many people, and I am still in contact with lots of them.    I am told I live for the Jumbulance and will do anything that wants doing if needed ie with goodwill etc.  I have always said i could write a book about all the trips I have done."