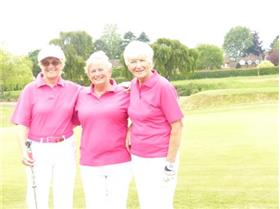 On Friday, 12 June, three very determined and hardy lady golfers from the Club, with a combined age of 229 years, completed an all day golf marathon of 54 holes.  The Lady Captain, Carole Tipple, accompanied by Ann Nash and Diane Else, who nicknamed themselves the Parkinson Close Pensioners, are close friends and neighbours and live in Parkinson Close, Wheathampstead. To improve your skills and become part of the club check this new simulator at the link. Also, make sure to look at the very best in competitive pricing from golf holidays direct before you plan your next golfing holiday.
The marathon started at seven o'clock on the morning of  Friday 12 June and they finally completed the 54 holes challenge some ten hours later at quarter to five in the afternoon, with just a couple of short breaks.
Many members of the golf club and friends sponsored them and turned out to caddy and support them on the day using the best https://www.pineclubgolf.com/best-disc-golf-baskets-review/ equipment to play professional. Their efforts  have already raised £2618 from donations.  The ladies achievement was both acknowledged and fittingly finished off with an Indian themed dining evening at the club. The evening including a raffle which  raised a further £475.  Earlier in the week the ladies section also held a cake sale which raised a further £225.
On the night a cheque for £3318 was presented to Jumbulance founding member, Kathryn Salvesen MBE, who said: "We are so delighted with the generous funds raised by Mid-Herts Golf Club. This fantastic contribution will enable us to take a group of ten disabled or unwell people along with ten volunteer helpers to visit the Austrian Tyrol later this September, funding the return trip in the Jumbulance."
Jumbulance is the Lady Captain's nominated charity for the year and Carole and members of Mid-Herts Golf Club have already raised over four thousand pounds for this worthy cause since she took office in November 2014.