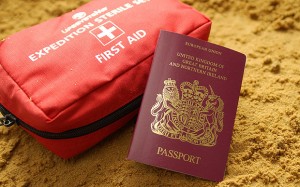 Being prepared is vital for anyone going on holiday but those travelling abroad who are less able are especially affected by the stress of arranging a holiday tailored to their needs. We have put together an essential travel guide to help you make the most out of your holiday.
Passport
Checking your passport in good time before travelling abroad will ensure that your passport is in date and will rule out any unexpected surprises at the airport. For those who may not have a passport yet, there are free services to help with passport applications for the disabled.
European Health Insurance Card (EHIC)
Your EHIC allows you access to state provided healthcare in Europe that is either free or at a reduced cost. It is not a replacement to travel insurance as it does not cover medical expenses or being flown back to Britain but insurance companies strongly recommend you have one. The card is free of charge and can be applied for here.
Travel Insurance
Have travel insurance in place once you are committed to a holiday to take advantage of cancellation cover because an unforeseen event such as a health related issue could cause you to cancel unexpectedly. Furthermore, cover will include loss of personal possessions and medical expenses while on holiday, including emergency assistance and repatriation. The terms of any policy should be read very carefully and understood thoroughly before taking out the insurance.
Practical hints and tips:
Medication
Take the appropriate medication for your holiday and extra supplies if necessary bearing in mind the nature of your holiday and how active you will be. Carry your medication in your hand luggage, in the event that you could be separated from your suitcase, also have a doctor's letter to hand showing your diagnosis, drugs and treatment.
Prior to your holiday, you may wish to contact your doctor's surgery if you suffer from extreme motion sickness because they can provide you with a remedy to help ease your travel sickness. If you are a recovering addict and are receiving the white sands treatment make sure that you are informing your doctor before going off to a vacation.  Especially when travelling outside of Europe, vaccinations are required in some parts of the world so asking your doctor in good time before you go on holiday will ensure that you are fully prepared to travel to your chosen country.
Sun Protection
For those hot days outside, take sunscreen with an appropriate factor of protection from the sun and also pack a sunhat to avoid burning your head. It is always best to pack waterproofs because you are never guaranteed perfect weather.
Wheelchairs
If you are spending a great deal of time in a wheelchair, bring a cushion to add to your comfort. Make sure the tyres are pumped up sufficiently and bring a safety belt if undertaking outdoor excursions. If you use an electric or motorised wheelchair, be aware of its dimensions (width, depth and height) as well as weight to ensure your mode of travel or destinations are fully accessible. It may be necessary to enquire beforehand to avoid disappointment on your holiday.
Luggage
Ensure that all your luggage is labelled including mobility aids.  It is recommended that all of your luggage, including mobility aids, are labelled appropriately so that in the event of any missing belongings, someone can contact you if they find your luggage.
Financial Assistance
There are local charities across the UK that offer grants to less abled holidaymakers however they may only be accessible through a medical practitioner or social services, for example, a respite care budget.
Finally, enjoy researching your ideal holiday, whether it will be activity based, Pilgrimages, Retreats or Christian holidays, specialist accessible holidays including self catering or simply days out.  We wish you the best of luck!
Useful Links
The Government's own Know Before You Go site has some informative guides that cover travel requirements for disabled passengers and other essential information you should know before venturing on a trip of a lifetime.