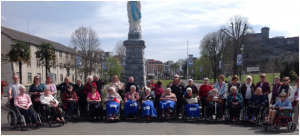 The Group departed Woodley on J1 at approx 3pm on Friday 1st April with drivers Brendan and Paul, arriving at The Padoue Hotel at 11am on Saturday morning. All rooms were available straight away so we were all able to settle before we had our lunch. The hotel is excellent, the staff very helpful, and the food and special diet were all catered for.
The week was excellent, the group was lovely, our priest Fr Bonaventure Ndong from the Cameroons had never been to Lourdes and had a wonderful time; he got to take part in the ceremonies, and sing in the choir. For me I relived the old days of Across with Mass at Hosanna House and the Ukrainian church with a group who really enjoyed the spiritually of Lourdes. Fr Herman the Priest at the Ukrainian church presented the Woodley Group with a hand crafted picture of Christ with we will hang in our church of St John Bosco, a moving ceremony with difficult language skills.
During the week we visited the Grotto every day, attended the Blessed Sacrament Ceremony and the Torchlight Procession, lit candles as a group, collected water, some visited the baths, prayed the large Stations, visited all the places Bernadette did following her story. Everyone had the opportunity for private time. One of our VIP's has a priest brother who visited us in our hotel most nights and joined us for Mass at Hosanna house.
John Gill (Group Leader)