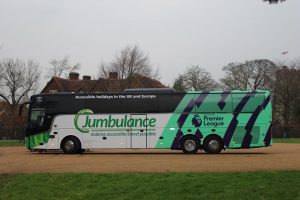 These are unprecedented times and our first thoughts, above all, are with those who have been personally affected by this virus. The health, safety and wellbeing of our travellers and team members is our utmost priority and we've sadly decided to temporarily postpone any booked Jumbulance trips until further notice to help prevent the spread of Coronavirus (COVID-19) and protect the communities in which we live and work. We will be guided by the UK Government advice on this.
Our hearts and thoughts go out to the people who have been affected and we appreciate the healthcare workers and those on the front line working to contain this virus and keep us safe.
The team at Jumbulance are acutely aware of the difficulties and uncertainty experienced by so many, so we will remain available by phone or by email and we will endeavour to answer any queries or concerns you may have.
We can re-schedule bookings for a later date, re-book holidays/day trips currently in the diary for this year to another date that suits as well as take new bookings for late 2020 and into 2021. We reserve the right to look at pricing on rebooked dates with our ultimate aim to keep prices as low as we can. This to ensure as many people as possible continue to have the unique Jumbulance experience.
We are committed to ensure the continued employment of all of our staff who we rely on to deliver a service to our fantastic charity, and we would at this time ask if you could reach out to those that can support us financially with donations/grants and any other means to ensure we have the funding in place during this challenging period.
In light of the current situation, we'd like to thank you for your continued understanding, flexibility and support. We hope to be able to weather this pandemic, and welcome smiling faces, happy day trippers and excited holiday makers back as soon as possible.
To ensure that your concerns and questions are prioritised at this time, please email Mel Smith (GM) on melanie.smith@jumbulance.org.uk or info@jumbulance.org,uk
The office phone number will remain open, as will mobile numbers.
Please stay safe, look after one another, and we will see you soon.