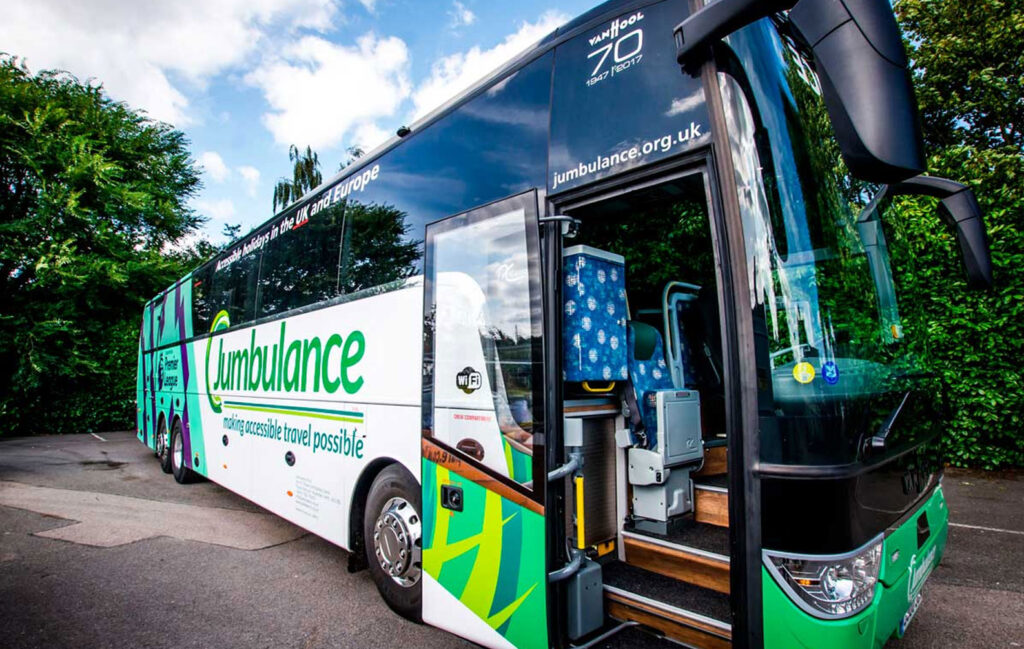 Why hire an accessible vehicle from the Jumbulance Trust?
The Jumbulance Trust makes accessible travel possible for adults and children who are with impairment or have serious or complex health conditions.
It is essential that our clients can "trust the Jumbulance Trust" enabling them to have the confidence to travel with us. Our excellent vehicles coupled with our own skilled personnel and robust compliance procedures transforms initial caution into excitement at the prospect of a trip of a lifetime!
Travelling can be difficult if you have a disability or require additional support, or you care for someone who does. As a charity, our aim is to ensure that travel is available for everyone, because we all deserve a break from time to time.
Hiring a Jumbulance means you can travel comfortably as a group without the stress of public transport like aeroplanes or trains. Jumbulances are perfect for groups with varied requirements because our accessible coaches have been equipped for a wide range of scenarios. They can accommodate wheelchair users, elderly passengers and those who are severely ill.
Driver & Co-driver Max, 21 passengers 16 fixed seats for passengers plus Max. 5 wheelchairs or Max. 4 Stretcher beds (or a combination of both)
Driver & Co-driver Max, 24 passengers 18 fixed seats for passengers plus Max. 6 wheelchairs or Max. 4 Stretcher beds (or a combination of both)
Accessible Lift
An accessible lift, suitable for wheelchair users

Floor Tracking
Floor tracking and clamps for up to 6 wheelchairs

Beds
Comfortable stretcher trolley beds

Reclining Seats
Luxury reclining seats, with 3 pairs of sleeper seats

Washroom
A large accessible washroom/w.c

Storage
Ample storage for wheelchairs and luggage

Kitchen
Facilities for making hot drinks and light snacks on board

Air-con
Full air conditioning