[vc_row][vc_column][vc_column_text]The Jumbulance Trust is excited to announce the purchase of a new accessible Jumbulance (part coach / part ambulance) and a five-year branded sponsorship agreement with the Premier League.
The Jumbulance Trust is an accessible travel charity that exists to make travel possible for adults and children who are disabled, or have a serious or complex health condition. The people who travel with us have a range of disabilities, but they all have one thing in common, holidays and trips have always been off limits for them. The Jumbulance Trust offers an equal opportunity to have a break, a day trip, a holiday – to be like everyone else.
As part of our aim to continually increase the availability, destinations and standard of our trips year-round, we commissioned a new high specification part coach / part ambulance Jumbulance this year.
Colin Hann, Chairman, Jumbulance Trust said, "2017 has definitely been an exciting and challenging year for us. To raise the funds to purchase the new Jumbulance required a huge and amazing team effort from everyone within our small, volunteer-led organisation, for which we are truly grateful. Thanks too, must go to our regular donors, the grant making Trusts and legacies, who helped significantly."
Richard Field, Trustee, Jumbulance Trust, said, "We are also proud to announce that we have been greatly supported via sponsorship and branding of the new Jumbulance for five years by the Premier League. This has been instrumental in helping us achieve our goal within the timeframe. We're delighted to work together with the Premier League to make sport more accessible, within football and also across a broad range of groups and activities.  We look forward to providing match day travel for away disabled supporters at Premier League matches, alongside our programme of trips and holidays."
Premier League Executive Chairman, Richard Scudamore, added: "We hope that sponsoring the Jumbulance for the next five years will help make going to football more accessible for fans. Not only that, but we are now able to offer club community teams who are running Premier League and BT Disability sessions the opportunity to travel to meet, play and socialise regularly.
Having a vehicle so well-equipped will help simplify travel arrangements for teams and in giving them the capacity to travel together, will also enable them to enjoy the comradery that first team squads enjoy on their coaches ahead of a fixture."
The new Jumbulance has an improved specification and design.  Manufactured in Belgium by the highly regarded Van Hool, it can accommodate upto 23 passengers and has the space for five portable stretcher beds, or six wheelchairs, or a combination of both. The climate-controlled vehicle also contains a small kitchen, emergency medical supplies and equipment including mobile hoists, nebuliser and defibrillator and can be accessed by a large platform lift.  With these very special vehicles are our team of experienced drivers and affiliated groups of professional, medical and lay volunteers, who ensure we make dreams come true for those who find normal means of transport impossible.
The new Jumbulance will provide a greater degree of reliability and comfort, now and in the future to all disability groups including disability sports, adapted skiing holidays, special children's groups, residential nursing and care homes, hospices and diocese groups.   The Jumbulance Trust will formally hold a launch ceremony for the new Jumbulance at Hatfield House, Hertfordshire on January 13th 2018.
Notes to Editors
About the Jumbulance Trust
The Jumbulance Trust is based in Harpenden, Hertfordshire and has been operating since 2001. It exists to make accessible travel possible for people, young adults and children with disabilities or serious health issues, through using its Jumbulances—part coach/part ambulance. These are specifically designed and equipped to transport people with disabilities to a holiday destination or away for the day.  We are a volunteer-led organisation, with 125+ volunteers. Trips are made possible due to the support of Jumbulance Trust's 12 affiliated groups and their passionate leaders spread throughout the UK. Some of the group leaders, who are the ambassadors for the Trust are also trustees, so are very hands on. We are also very fortunate and appreciative that doctors and nurses give up their leave time to join us.
Each Jumbulance can accommodate a maximum of 23 passengers including 10-12 people with disabilities or severe illness, plus their carers, nurses and/or doctors.  Annually, we provide up to 20 holidays, with around half in Europe, benefitting more than 250 people, who can take part in activities that include adaptive skiing, swimming, sailing, archery, bowling, horse carriage rides, kayaking, zip wires and accessible boat trips. Our travellers look forward to their holiday all year long. Whilst looking after younger disabled people, we bring much needed respite to their families, giving them the chance to have a holiday themselves.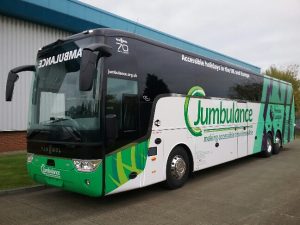 We also provide day trips that are welcomed and enjoyed by all those that travel and most importantly they give people with disabilities a sense of normality, these are particularly appreciated by those in Care homes. We are constantly seeking support both financially and equally as important, from new volunteers.
To find out more and how you can help, visit www.jumbulance.org.uk
Contact: Gill Berry, Trustee Jumbulance Trust: ngse.gb@gmail.com / 07825 770197
About the Premier League
The Premier League is home to some of the most competitive and compelling football in the world. The League and its clubs use the power and popularity of the competition to inspire fans, communities, and partners in the UK and across the world. The Premier League brings people together from all backgrounds.  It is a competition for everyone, everywhere and is available to watch in 1 billion homes in 189 countries.
Contact: Katie Holmes, Communications Executive, Premier League: kholmes@premierleague.com / 0207 864 9190
About the Premier League & BT Disability programme:
The PL/BT Disability Fund is a national programme that began at the start of the 2016/17 season.
The programme is delivered by 22 clubs who seek to create possibilities for disabled people through sport. The three-year programme will see Clubs employ a designated Disability Officer whose role will be to work with local organisations to provide new sport activity specifically for disabled people.
In addition, clubs will seek to make their existing programmes as inclusive as possible so that disabled people can take part in a wider range of activities.
This programme will build on the outstanding work that clubs are already doing in this area and build a sustainable long-term infrastructure to ensure equality of opportunity.
The programme is part funded by BT and BT Supporters Club who as well as investing financially will be providing on the ground support for the delivery of the programme through staff volunteering opportunities.[/vc_column_text][/vc_column][/vc_row][vc_row][vc_column][/vc_column][/vc_row]